Coca-Cola, one of the most recognized products in the world, was born in Atlanta, Georgia on May 8,1886.
El Dr. John Stith Pemberton, un farmacéutico local, produjo el jarabe para Coca-Cola como un medicamento para el dolor de cabeza y caminó por la calle con una jarra del nuevo producto hacia Jacobs' Pharmacy donde fue catado, pronunciado como "excelente" y puesto a la venta por cinco centavos el vaso como una bebida de la fuente de sodas. El agua carbonatada se mezcló con el nuevo jarabe para producir una bebida que de inmediato fue "Delicious and Refreshing", características que hoy en día continúan haciendo eco en todos los lugares donde se disfruta Coca-Cola.
Believing that "the two Cs would look good in the publicity", the partner and accountant of Dr. Pemberton, Frank M. Robinson, suggested the name and wrote the now famous commercial brand Coca-Cola with its unique calligraphy.
"Coca-Cola is present in more than 206 countries and is the most best-known word in the world after 'OK'. Its strategy for 2020 consisted in creating non-alcoholic beverages ready for using in each occasion and need"1
El primer anuncio en el periódico para Coca-Cola pronto apareció en "The Atlanta Journal", que invitaba a los sedientos ciudadanos a probar "la nueva y popular bebida de fuente de sodas". Letreros de hule pintados a mano que decían "Coca-Cola" se podían ver en los toldos de las tiendas, aunados a la sugerencia "Beber" que informaba a los transeúntes que la nueva bebida era un refresco de la fuente de sodas.
Durante el primer año, las ventas promedio sumaron nueve modestas bebidas por día. El Dr. Pemberton nunca se imaginó el potencial de la bebida que había creado. Gradualmente vendió porciones de su negocio a varios socios y, justo antes de su muerte en 1888, vendió su interés restante en Coca-Cola a Asa G. Candler. El Sr. Candler, originario de Atlanta con gran sentido empresarial, procedió a comprar los derechos adicionales y adquirir control total.
In this article, we will talk about what we consider some of the main reasons Coca-Cola has employed to become an opinion leader. They are listed below in no particular order of importance:
1. It is a good product: El ser un producto que gusta, a la gente recordando y reconociendo su reputación e imagen deseada se fortalece en el momento que el consumidor prueba el producto.
"In a market study of the major companies that manufacture and distribute soft drinks in Mexico, Coca-Cola is the preferred brand, according to 82% of the people interviewed".2
2. Tells a story: Coca-Cola cuenta la historia sobre su creación en una farmacia como medicamento contra el dolor de cabeza. Esta es la razón por la que el "prototipo" de la Coca-Cola que conocemos hoy, incluso contenía hojas de coca. Hace 129 años era un ingrediente que se utilizaba como medicina.
"According to Press and Communication data, the companies with an elaborate and drawn up storytelling have 75% more possibilities of increasing sales during a campaign.
This is due to the capacity to empathize with its customers, a trend increasingly more valued among end consumers"3
3. Present always and everywhere: In the tiniest and most remote island of the world you will not find many stores or have a 
great variety of products, but you can be sure to find Coca-Cola. Surely the only publicity sign in the island has a red background with the famous white lettering. In an expedition to the Himalayas, there was nothing, but at 5,000 meters altitude you could still buy Coca-Cola.
4. Logotipo Atemporal: Dr Pemberton decided that the Coca-Cola logo should be written in accounting sheets with the purpose of making it different from competitors. In 1923, the company standardized
the logo and, like the recipe, decided that the container could be adapted with time, but the logo should be untouchable; this way a new logo was born that has had more than 100 years to be implanted in the mind of the consumer.
"In the ranking BrandZ 2020 of the most valued brands worldwide, presented by WWP and Cantar, Coca-Cola maintained its leadership with a 5% growth; consolidating itself as the leading brand in the beverage category". 4
5. Branding of an emotion: The message the Brand transmits is the following: "If you want to be happy, drink a Coke".
Over time, Coca-Cola has delivered the publicity message, related to what human kind desires the most: Happiness. 
Relacionar el mensaje de branding con una emoción hace que aunque su competencia los supere en sabor, nunca podrá conseguir lo que nos aporta Coca-Cola: ser feliz.
6. Promotional items with high perceived value: Los artículos promocionales de Coca-Cola han estado presentes desde 1895 y se han caracterizado por ser innovadores y útiles. 
Itis important to stress that the use of useful promotional items strengthen the emotional bond between people and brands. In some cases, Coca-Cola has made strategic alliances with renowned brands like Tupperware. That is where part of the success of promotional items of Coca-Cola starts, which not only helps increase sales but consumer preference as well.
Click here to know the success case
7. Estar cerca de la pasión: Al querer estar relacionada con la felicidad tienes que estar cerca de las emociones y Coca-Cola es una de las marcas que tiene más presencia en eventos deportivos locales, nacionales e internacionales.  Esto te lleva a poder compartir los momentos de pasión con tu público objetivo está siendo una herramienta de mercadotecnia.
8. Products for all: Coca-Cola does not exclude anybody. In Mexico it offers more than 60 brands in 10 categories of beverages with the options of no sugar, no calories, light or original for all ages and preferences.
9. Innovative Exhibitions: Coca-Cola has been a reference for innovation at the sales point for many years, , managing to exhibit its products in innovative ways, offering unique purchase experiences for the consumer.
Currently, Coca-Cola de México has started using the innovative headers offer several technologies, las cuales no solo ayudan a crear "awareness", sino que también generan información.
10. Santa Claus and Christmas:  el origen de la persona que trae regalos a los "niños buenos" durante Navidad en Occidente, también ha hecho que la marca de refresco más famosa del mundo sea referente obligado en estas fechas. Inspirada en la figura real de un obispo cristiano llamado Nicolás, el Santa Claus de hoy es más una fabricación de The Coca Cola Company, so much so, that its traditional costume which for centuries was of a green color was transformed to match the brand's motifs.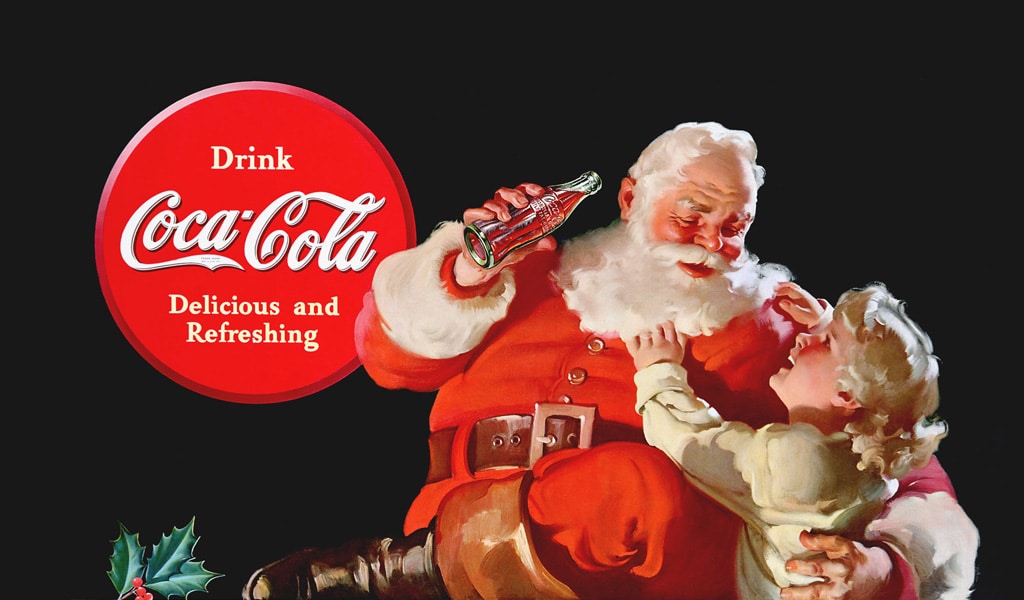 Conclusion:
Coca-Cola is a company that for more than 100 years has managed to make millions of people happy with its products, messages and the brand's distinctive designs. 
It has always been present at great sport events, like the Olympic Games or World Cups, with a unifying message for countries, families and friendships. It has also managed to win consumers with the use of personalized campaigns and promotional items which besides being useful to the shopper help generate brand loyalty.
Coca-Cola has dedicated itself to study the shopper's behavior in a strategic and innovative way, with the purpose of knowing what type of products to introduce for sale, as well as exhibiting them in the best way at the sales point, so as to call the shopper's attention.
Thanks to these initiatives and many others, Coca-Cola has become an opinion leader and a global reference company.  
Sources: